Gopi asked me to dig planting holes for a dozen dietes grandiflora. For the last couple of years, until a few weeks ago, I thought they were lomandra longifolia. Anyone that knows much about plants can laugh at me now, but! it's an honest mistake, years ago I planted a bunch of lomandra about the place, and with interest in the garden rekindled with Gopi moving in I looked about and saw these strappy-leaved grasses around the garden...
These guys will grow in clay in almost impossible conditions, but don't look like weeds. And they reproduce and make little ones where you don't want them, so we have a stack of them in (temporary) pots, very handy for trying to get something (anything!) going after clearing an area of weeds. And they do look nice when they flower. Here's a picture of some dietes flowers in the garden from a year ago (they're having trouble this year with the weird weather):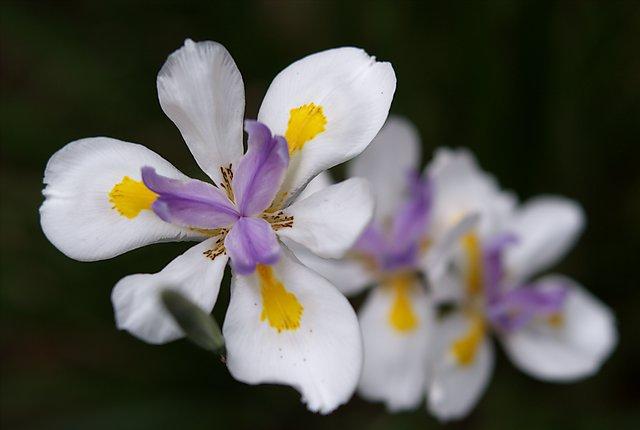 Digging a hole in our back yard is a frustrating affair. You won't get very far before you hit a rock. And sometimes they are quite large. We're built on sandstone here, and there's also a lot of clay. I broke the handle of a new spade (Kelso brand from Bunnings, terrible design when you see how it's really made, replaced with a Fiskars which is doing a great job). In the end I decided to do it "properly" and excavated about 40-50cm of the planting area with the aid of a fencing bar. Here's the result: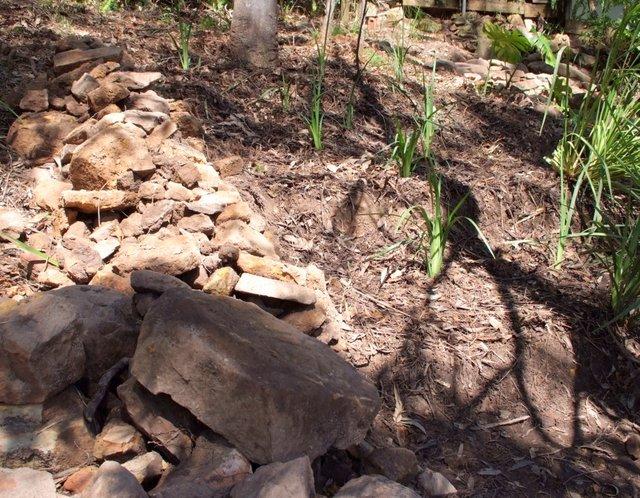 The level of the planting area on the right is maybe an average of 15-20cm lower than before. All the rocks on the left were previously underground... there are a few more stepping-stone sized ones not shown in the pic. Well, this "bounty" got put to use making progress on a project I started years and years ago: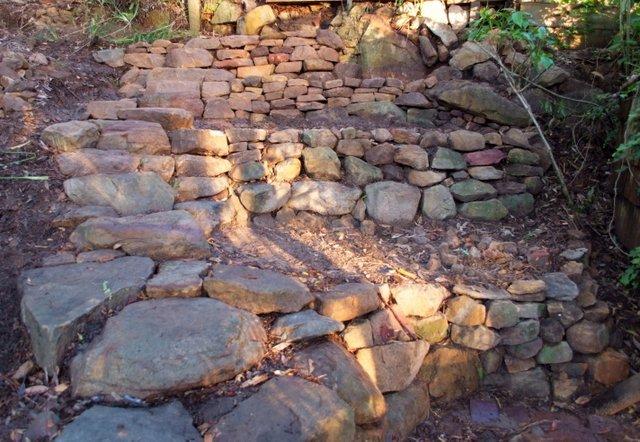 The new part is the top two walls and the steps next to them. The reason there are no plants here is because we removed the weeds - lantana and herring bone fern, mostly. And that's what's left! Here's another pic: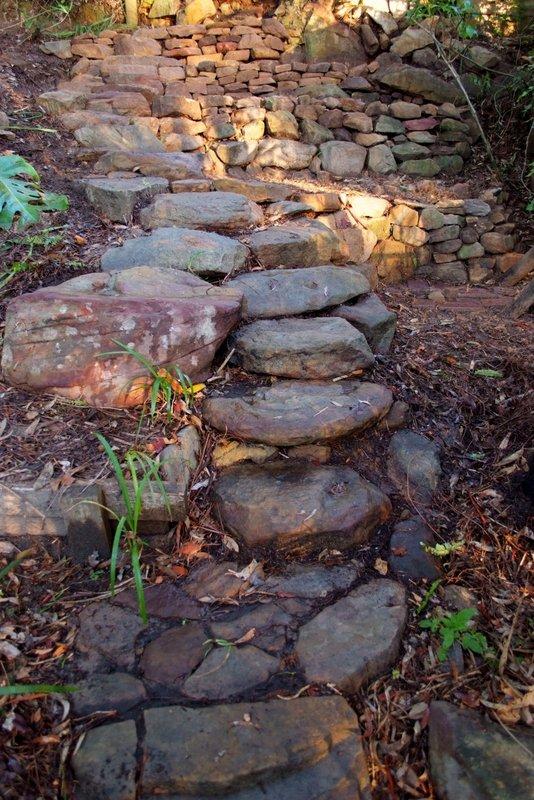 I always forget to watch out for these guys....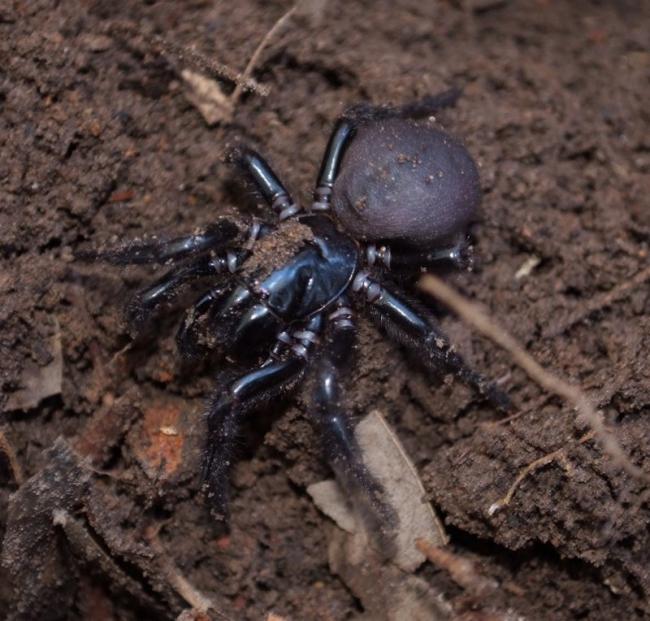 This one wasn't hostile though, instead of rearing it just tried to run away. I felt a bit guilty about killing it but since we're going to be doing more planting up there... :( I also found a little scorpion under a rock but it nicked off while I was fetching the camera.
Around the front, I'm trying to get some banksia ericifolia going. These look fantastic up on Bangalley Head with the late afternoon sun on the flowers. So I've planted some in front of what is going to be a window out of my workshop so I can sit there soldering (or whatever) and admire them in the afternoon sun. in about ten years maybe! Clay underneath a thin soil layer here so they might not do very well but I guess we'll see.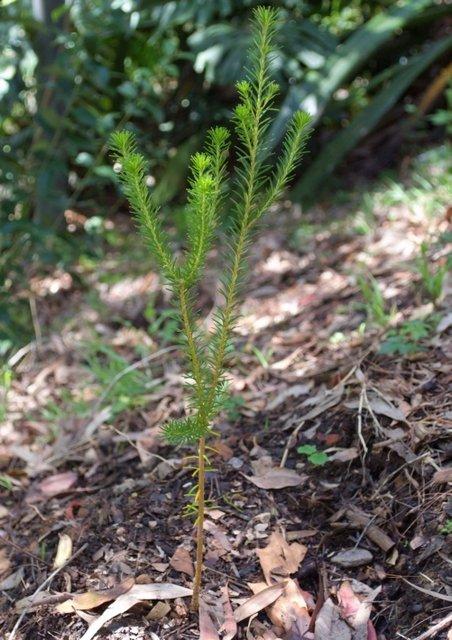 We have a mama and papa macrozamia communis "burrawang" up the back and they seeded a couple of years ago and produced like a hundred little ones. So now I have more than I know what to do with in pots, a few from seed but most taken out of the ground. The problem is they're such slow growers that for the first ten years or more they won't occupy much space. Once they're a reasonable size, though, you'll never be able to move it because of the large root and I think it might even be illegal. I decided what the heck, I'm going to plant them a bit close and it will sort itself out I'm sure.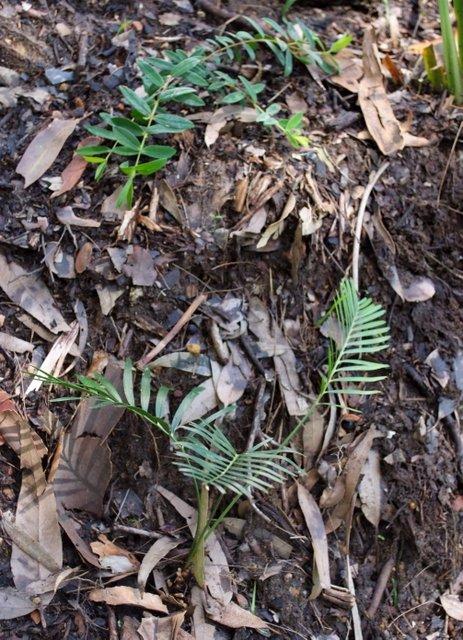 At the top of the picture is a melaleuca hypericifolia prostrate form and in the right corner you can just see a Dietes. The theory is that by the time the melaleuca gets larger the dietes will have seeded down the (barren) slope and can be removed, and by the time the burrawang gets to any size the melaleuca will have probably died anyway and been replaced. I've done a row like this above the bankias.